What's Inspirational
By Simon Published: October 11, 2013
What You're Saying
Choiceful.com is a fantastic website to buy anything from plasma TVs to hand tools and kitchen utensils. Choiceful.com is like a massive shopping centre. Once you start browsing around it becomes really hard not to buy stuff! You can also sell your own items too - although it can be quite competetive as quite a lot of items sell very cheaply.Read more
Win £250 when you buy something from choiceful.com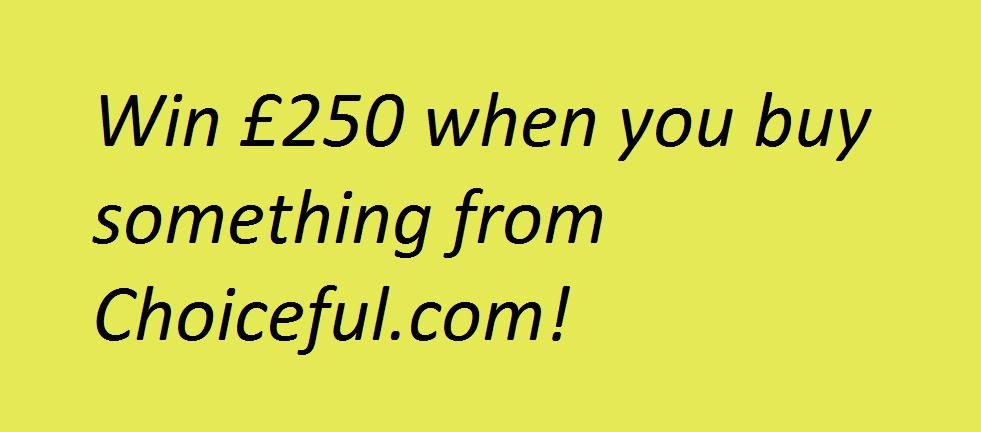 Aimee / Published on January 31, 2013
We're not content with only offering you great selling tips and money-making advice; we're also giving our lovely customers the chance to win a whopping £250!
To be in with a chance of winning, we're asking you to post on our Facebook wall every time you purchase from Choiceful.com, letting us know what you've bought. You'll then be automatically entered in to a monthly prize draw, with £250 up for grabs.
Imagine what you could do with the money – maybe you could put it towards a holiday, use it to buy your loved one a present, or even browse our website and purchase more great products from our fantastic sellers!
We've currently got over 100,000 products in the home and garden and health and beauty categories, so finding something you want is really easy.
Let's face it, in today's current economic climate, every little helps, and we at Choiceful love rewarding our customers for their loyalty.
Check out our Facebook page for the full list of Terms and Conditions.
If you won the £250, what would you spend it on?