What's Inspirational
By Simon Published: October 11, 2013
What You're Saying
I used to sell some cooking utensils on eBay but noticed my sales were shrinking and their fees were going through the roof. A friend had used Choiceful and recommended the site to me. They had all of my products available and most didn't have any sellers, I created an account and added my products within a few minutes. Unlike other marketplace websites Choiceful.com customers tend to be easier to deal with as their are lots of selling tools to make my life easy. What's most important though is I'm left with a lot more profit for each sale!Read more
Goodbye Red Telephone Boxes - Hello Solar Boxes!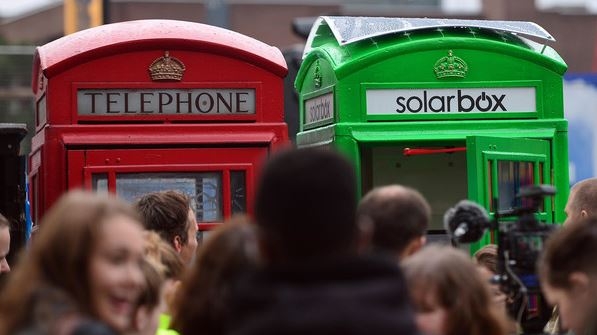 Chris / Published on November 3, 2014
Britain's iconic red telephone boxes first appeared on the streets of London during the 1920's and have since become a traditional landmark and indicator British-ness.
Despite British Telecom discontinuing the trademark design during the 1980's, the phone boxes have remained prevalent throughout our surroundings and withheld their symbolic status. However, outside exit three of Tottenham Court Station in London, you can expect to see an altogether, modified, more modern version of the phone box - the Solar Box.
Having been given a make-over, the long established red telephone boxes are set to transform into solar powered mobile phone chargers. Painted green and adorned with a contemporary logo the phone boxes have been revitalised to accommodate modern society's needs. The idea for Solar Box came from two geography students who both studied at the London School of Economics (LSE) who were interested in finding new ways to use abandoned public spaces and started the project back in 2013.
Kirsty Kenney, co-founder of Solar Box has stated "Solar Box is turning London's disused telephone boxes into solar-powered charging points for mobile phones".
When asked as to how the duo came to exploring the possibilities of this new addition to the streets of London, Kenney said "The idea for Solarbox came about through three reasons really. The first is that phone boxes aren't used anymore. The second is modern phone battery life can't keep up the pace with our lives. And the third is there is nowhere really to charge your phones in the public realm". So with a little research and the help of comprehensive focus groups the pair combined this series of factors, resulting in the production of the first ever, solar powered landmark.
The service is free of charge however users will be shown adverts on a fitted screen within the booth throughout the duration of their charge time.
The Solar Box is said to be able to charge up to 100 phone each day, offering a 20% battery charge in approximately 10 minutes - Perfect for making that emergency phone call. Having also won second place in the Mayor of London's Low Carbon Entrepreneur of the Year Award earlier this year and also winning LSE's Emerging Entrepreneur of the Year award, the Solar Box looks set to dominate the streets of London with an additional six booths expected to launch in the early part of next year. Truly innovative and groundbreaking in terms of modern technology – we can't wait to use it!