What's Inspirational
By Simon Published: October 11, 2013
What You're Saying
Choiceful.com marketplace is a great way to earn a bit of extra cash from any books, games or computer software you no longer require. Unlike other online marketplace websites, there is no charge for making the listing and Choiceful.com only take a small commission. There's also an added benefit in that Choiceful.com request payment from the buyer and then forward it into your bank account. This way you're guaranteed the payment won't bounce and you're protected against fraud. And, unlike e-bay, you don't need a credit card to sign up with Choiceful.com. All payments are transferred to your bank account and commission is taken before the funds are transferred.Read more
The New Face of Facebook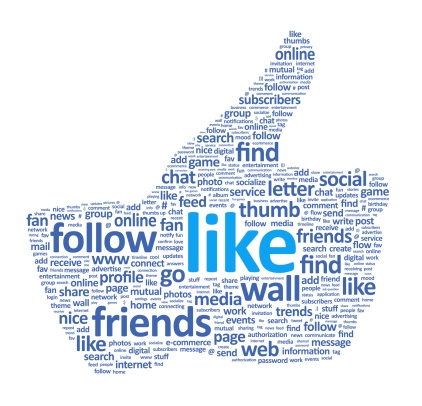 Abigail / Published on March 11, 2013
The immensely popular social networking site Facebook is no stranger to new design changes. The latest design to be unveiled has been made so that the website looks more like its Android and iOS mobile apps.
The project's lead engineer, Chris Struhar, said that the focus of the redesign had been to strip back the amount of information shown on the news feed in order to make each post more "engaging".
"We wanted to clean up the page, declutter it, make it simpler, more modern and easier for people to use." This is after users had complained that the news feed felt cluttered.
Before you get too animated however, it will be months before all users are affected by the new format. If you do want to be among the first to be switched over, you can sign up to 'offering a waiting list feature'.
So what's new about Facebook? Well, there are three key changes being made:
The website switches from a three-column format to two columns, which means the news feed takes up more space on the page. This allows all posts to take up a bigger proportion of the page, with more prominence being given to images rather than text or links. See this picture from the BBC News story, showing how a posted video link would look before and after the switchover.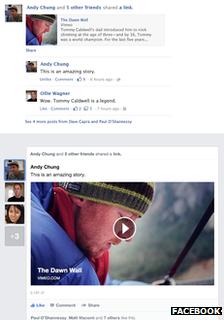 How a posted video link would look before (above) and after (below)
- A pop-out black bar has been added to the left-hand side of the page, containing app bookmarks, links to close friends, the chat and calendar tools, and the live updates ticker.
- Users will also be able to select alternative news feeds in addition to the standard news feed. These include a newsfeed showing all updates posted by friends, one dedicated to organisations and people that the user "follows"; a feed that features only photo posts, and a music-themed feed with updates from artists that the user likes, as well as concert announcements.
What's more, each time a user posts about specific locations, Facebook will auto-generate a map. This change should encourage more users to use the mobile app's GPS-powered check-in function.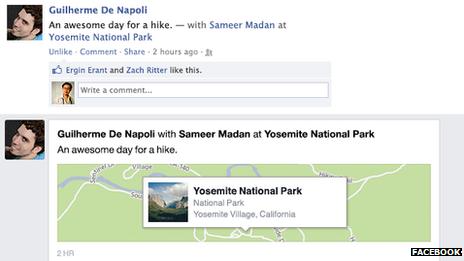 Something businesses are sure to like is another change; if a user "likes" an organisation, a horizontal banner photo is added to posts reporting the news in addition to the brand's logo, which makes the update far more eye-catching. So if you own your own company or you advertise a business through Facebook, there's a better chance that people will come across you.
Now, each time Facebook changes its design layout, there tends to be a lot of controversy from users. However, the head of strategy at Connect Advertising & Marketing, Hin-Yan Wong, said he expected users would eventually get used to the new look – and come to accept the bigger presence of advertisers.
So if you've got unwanted items to sell, advertising them via Facebook's new design may help you reach out to more customers. We love the idea that photos and videos will appear in the post, rather than just the links. Take a high-quality image of your home and garden product and post it on Facebook for potential customers to see.
Add in a link to Choiceful.com's marketplace so your customers know where to go to buy the product you're selling. It's as simple as that.
Check out our Facebook page for details of competitions and prizes you could win by being a seller on Choiceful.com.