What's Inspirational
By Simon Published: October 11, 2013
Blade Runner – The Ennis House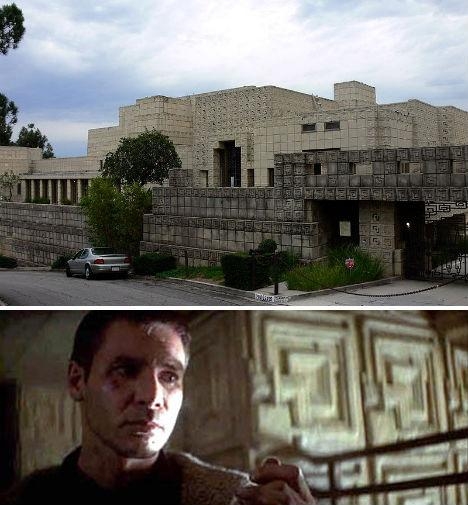 Edwina / Published on August 21, 2013
It would be criminal to talk about architecture in films without giving The Ennis House from Blade Runner a mention. The 80's classic was futuristic in nature but aesthetically it lends itself to a dystopian style with its looming, intimidating structures.
It resides in Los Angeles, built in 1924 by Frank Lloyd Wright and at 6,200 square feet, stands as the largest of Frank Lloyd Wright's four LA 'textile block' houses. It was constructed with more than 27,000 concrete blocks – all patterned and perforated.
It resembles the exterior of Mayan buildings in Uxmal (Mexico) and moulds of the Mayan patterns were actually taken by the production team, so though not a great deal was actually filmed in Ennis House, the theme continued throughout the film. The Mayan Revival-style tiles saw it being used in David Lynch's Mulholland Drive, too.
Unfortunately, in 1924 Ennis House suffered damage from an earthquake and £3.9 million was forked out to repair it. It was put on the market for £9.5 million in 2009 but due to the substantial work needed, it was sold for £2.79 million to supermarket tycoon Ron Burkle who continued to store it.
This famous property is an inspiration to homeowners worldwide, especially with its Mayan influences. Is there architecture from any other ancient civilization that has made any impact when building or choosing furniture/decoration for your house? Let us know on our
Facebook
and
Twitter
pages, as well as reads on other famous houses.
Don't forget to check out our
Home and Garden
section for products to help you kit out your home.