What's Inspirational
By Simon Published: October 11, 2013
What You're Saying
Choiceful.com is a unique place, built for better buying and easy selling. They make managing my online business an enjoyable and more profitable experience. I have recommended them to all of my family and friends.Read more
5 Of The Best Painting Accessories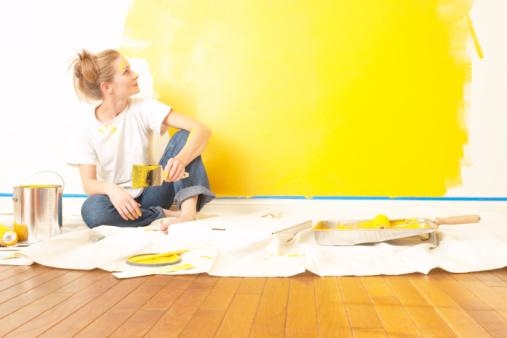 Jacqueline / Published on July 18, 2013
On Monday we brought you a list of the top five household cleaning products. If you've recently moved in to your new home, or you are a landlord that has bought a property to rent out, it is vital that you get it looking spick and span in no time.
Of course, the next step to consider is redecorating. It could be that the house is looking a bit tired and worn or the current décor may not be to your taste. Either way, you don't have to spend a fortune to get it looking just right.
Today we've picked out five of the best painting accessories to help you spruce up your house without breaking the bank.
1. Dust Sheet
Before you begin the work, it is important to move the furniture to the middle of the room so you have space to paint. To avoid your new furniture becoming splattered with paint, cover everything with a dust sheet. Our
Tri-Star All Purpose Plastic Dustsheet Roll
is great value for money and as it is waterproof and rot proof, can be used internally and externally for a variety of handyman jobs.
2. Wallpaper Stripper
If you're planning to redecorate, you should first remove the current wallpaper. Make your job easier and faster with the help of wallpaper stripper. Spray the
Zinsser Fast Acting Liquid Wallpaper Stripper
directly onto the wall and within two minutes it will dissolve the adhesive and the wallpaper will come off easily.
3. Stripping Knife
There may be some pesky sections of wallpaper that require a bit of man power to remove. For this purpose, the
Harris T-Class Super Stripping Knife
will do the job perfectly. It comes in a variety of sizes to help you reach right into the corners.
4. Roller
Once the old wallpaper has been removed, you'll be left with a smooth surface to paint on. The easiest and quickest way to paint a wall is to use a roller. Purchase one with a tray to enable easy movement around the room and always paint in the same direction to leave a better finish. Our
Lynwood Masonry Roller Set
is ideal for your painting job.
5. Paint Brushes
Although a roller is great for painting a large surface area, you'll require a paint brush to help you be more precise around skirting boards. One tip is to stick some masking tape over the top of the skirting board to avoid any paint splashes coating your skirting boards. Our
Harris No Loss Evolution Brush Set
is comprised of five brushes of varying sizes and is suitable for all paints and varnishes.
So there you have it – decorating is simple once you have the right tools for the job.